here is a preview of the ad to appear in Durango High School's newspaper, April 15 edition! Â The first 10 2011 seniors get a 33% price break on their shoot fee and some other goodies listed in the ad below. Check it out! Â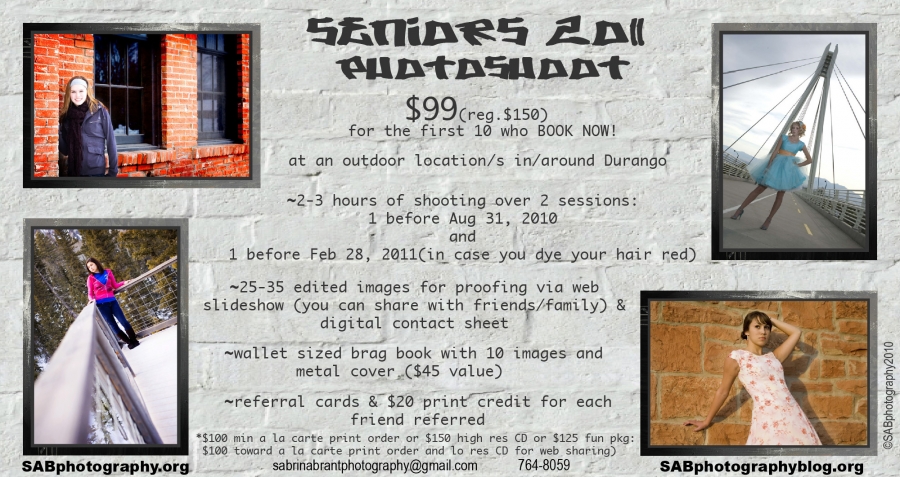 and, just to add a few more details…
i have added lots of extras for the seniors this year. so many new and hip creative ideas for your images.  check out the "creative ideas for your images" category of this blog and the  SABphotography product section of the  website for details….High End products for Low End prices
the wallet sized brag book that goes to the first 10 seniors who BOOK NOW is super cool with a silver metallic cover and will feature 10 favorite images from your shoot cleverly placed with frames and personalized text.
another added bonus is the refresher shoot to be taken in the spring 2011 to add to your image portfolio for the year.
and, the referral program is ace enabling your friends to get a free 5×7 print on a specialty paper of their choice (linen, pearl, matte, semi-gloss or eco-friendly) just for mentioning your name when they book a senior session. You get a $20 print credit for every friend you refer! Â how do i refer friends you ask? easy peasy. after your late spring/summer 2010 shoot, i will provide you with 24 personalized referral cards on really nice linen paper filled with your photos and info about SABphotography.
there is a minimum print/product order of $100 or you choose your 25-35 digitally processed images on high resolution CD or the fun package for $125, which includes $100 toward a print order and a lo resolution CD for web sharing(not print quality). 2 unique features of SABphotography is all of my products may be ordered "a la carte" style, meaning you choose what you want to buy and how many of each! Â And, i do offer ec0-friendly papers for prints and books that i absolutely love. i am so excited about offering these that there is no price increase for these specialty papers. Â however, there is a minimum order for these papers(ask for details) because it is extra work for the printer to change out to these papers while printing. Â  Â  Â  Â  Â  Â  Â  Â  Â  Â  Â  Â if, however, you are not satisfied with your images, you have no obligation to purchase any prints at all